Contact Us
Coastal Bay Chemicals, Inc.
Bauan, Batangas Philippines

view our location map

About Us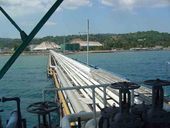 Coastal Bay Chemicals Inc. was incorporated in 2007, the company specializes in the following services. Importation of bulk chemical raw materials, handling and storage of various chemicals, manufacturing of latex products and delivery services of chemicals to the customers. Coastal Bay Chemicals is located along the coastline of Bauan, Batangas Philippines.